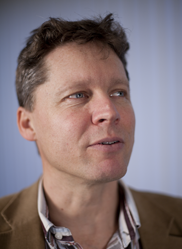 Douwe has over 20 years of experience in the field of software development, IT management, organizational change, project and programme management and the development and delivery of training courses.
Hij werkte bij ICT afdelingen van grote Nederlandse organisaties en in organisatieveranderingstrajecten bij universiteiten in Thailand, Bolivia, Mozambique en Zuid Afrika.
Daarnaast heeft Douwe ook leidinggevende ervaring zowel ad interim als in vaste dienst. Deze ervaringen gebruikt hij om zijn trainingen, begeleidingtrajecten en adviezen goed aan te laten sluiten en levendig te maken.
In de methodische trainingen zal Douwe altijd proberen de pragmatiek van de dagelijkse praktijk te brengen zodat de 'geest' of het 'gezonde verstand' achter de methodieken duidelijk wordt. Het liefst werkt hij met simulaties en managementgames om de theorie met de praktijk te verbinden.
Douwe heeft zich verder gespecialiseerd in Risico Management en is als eerste docent in Nederland geaccrediteerd voor de methodiek Management of Risk (M_o_R®). Daarnaast is hij ook (geaccrediteerd) trainer voor PRINCE2® projectmanagementtrainer, MSP® Programma Management, MoP® Portfolio Management, MoV® Value Management and IPMA.
Voor meer informatie over Douwe Brolsma verwijzen we graag naar de LinkedIn site van Douwe.